Fetish Furniture-BDSM
Hand Crafted Custom Fetish Furniture
Bondage/ Fetish Furniture from my home shop in California
20 years experience in carpentry and finish
Special requests accepted!
Where sex and style collide with kink!
You live only once. You may have sexual fantasies that you have always wanted to live, but hold your self back with doubts and self criticism. Life is for the bold, do not live in suppressed denial anymore. There is someone out there who cares, who understands that you and your partner have been entertaining some unfulfilled longings.
It is said that if an egg is broken from the outside a life ends, but if it is broken from the inside a life begins, its time to begin yours. Holding on to sexual fantasies can only keep you subdued, break out of your shell, contact the experts on fetish furniture and you will be well on your way to sexual satisfaction like you have never known before.
Fetish furniture are known as the place where sex and style collide with kink and true to their motto they have exclusive personalized furniture to suit your every taste and desire. At fetish furniture we make sex items that will take your sex life to the next level and the beauty is they are handcrafted just for you.
One of our most popular items is the "Bondage Horse" or often called a 'Spanking Bench". Made to offer you endless pleasure, the number of positions and penetration levels are all left to your imagination.
Using it offers you multiple sex position and the addition of other sex toys such as a blindfold or cuffs only adds to new heights of exquisite pleasure.
Made from firm and smooth furniture grade hardwood veneered ply, and padded with upholstery grade padding covered by premium faux leather, the journey to pleasure starts the minute you lay your eyes on it. Coming with heavy duty hinges and bolts, you are assured of a firm horse without any accidents interrupting. If you need to fold and put it away, no problem because it is designed just that way, to be discreet.
Want to take your sexual Adventures to New Levels?
Then the St Andrews cross is just the thing for you. Made with firm wood and enough restraint points, we have made a point of disguising it as your everyday furniture in case you have storage limitations.
To everyone else and the visitor, it is a harmless pedestal holding your plant. To you it holds kinky pleasures you cannot wait to unlock at the appropriate time.
If your pleasure comes mixed with pain and bondage, what better way the to take a look at our spanking bench. With restraints to ensure the submissive party is held in place, the bench also comfortable and is made to ensure the dominant is well placed to spank the right places bringing undiluted pleasure to the submissive.
For couples who have space for a dungeon, at fetish furniture all things bdsm are custom-made to your dungeon specifications. Our furniture allows the dominant to play with the body of the submissive from touch, spanking and penetration styles. All with total restrains ensuring the submissive becomes a slave to cater for the pure sexual pleasure of the dominant.
Whatever you covet, you name it and you will have it. With safety measures in all our equipment to avoid injury, you are well on your way to living in your sexual fantasy world. Our pleasure is seeing you get yours.
If you want to take things to a whole new level, you might want to employ "Bondage Furniture" into your sexual adventures. Sex furniture can literally give you precisely the boost you need, and restraint systems are super way to experiment with bondage and submissiveness. From simple to extreme, there are all kinds of ways to get you into the perfect position, keep you in place, prolong your pleasure and even enhance the motion of your sexual play. These props are great for new positions and hitting all your secret spots and allow for exciting adventurous sex. Trying new things is half the fun and it keeps relationships healthy! A "Bondage Horse" is a delightful addition to any sex toy collection, bedroom or bdsm dungeon. Whether you are a couple trying to sneak a moment away from life and the kids, looking for more comfort during sex, bdsm roleplay or just looking to enrich your sexuality with enhanced pleasure and intense orgasms, a "restraint horse" is the answer. The "Restraint Horse" not only creates the ability to explore a multitude of sexual positions, it can also be easily folded up and stored away, because it is also designed to be DISCREET. Once you have used a bondage horse, you will not want to be without it. Blissfully bound, deliciously restrained, tenderly tied. Add blindfold, tethers, soft snap-on cuffs and silky ties to reach a new level of "Oooh".
The Bondage Horse
This restraint horse is designed with portability in mind. It easily folds and stores away to a mere 7″ wide. The arm and leg rests are fully adjustable and can be stored to the inside of the unit with a few easy spins of a couple wing nuts. No tools required!
The total assembled size is 33′ tall (at the high side), 30″ (at the low side) , 27′ wide, and 46″ in total length. The torso section is removable and can be turned into a flat top unit with the removal of a few screws.
The custom designed horse is made with:
Furniture grade hardwood veneered ply and 2x stock pine planed and sanded to friendly standards

2-4 coats of clear water based poly semi-gloss for durable protection, beauty and clarity of the wood

Whisper faux leather and 3″ Foam padding

Heavy duty hinges and hardware

High durability and strength yet maintains bold elegance
Additional Attachments Available


The St.Andrews Cross-

Fetish Furniture
Another addition to any dungeon setting is the St. Andrews Cross. I have taken this popular piece of bondage furniture and given it a twist. The St. Andrews cross is not exactly an easy piece to store away out of sight when unexpected house guests show up. The whole world doesn't need to know about your more than adventurous lifestyle. This cross design is made to look like any ordinary piece of furniture with a bit of kink hiding within. The design is made to look like your everyday pedestal that you can put a plant, vase or whatever fits on it. Here is a picture of the completed piece in my shop.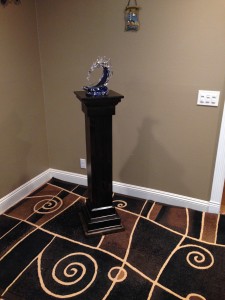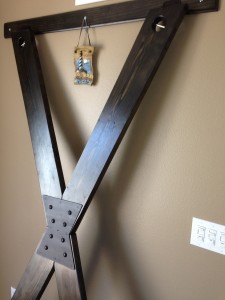 Yep, It's the same piece of furniture. Let me explain, or better yet, just run through the picture sequence of how this goes together. I'll skip through to finishing stages. Take a look below: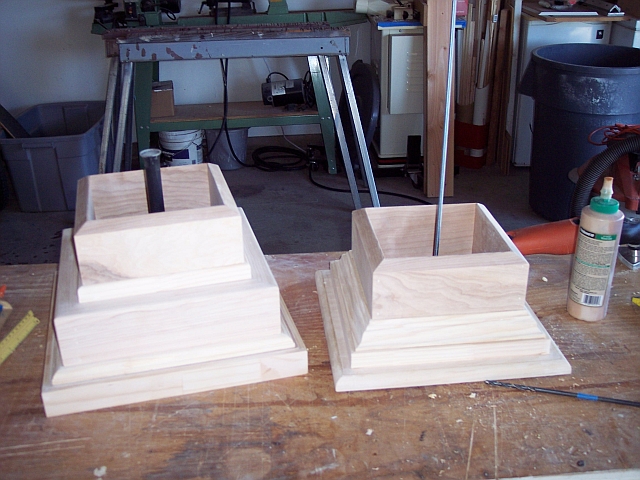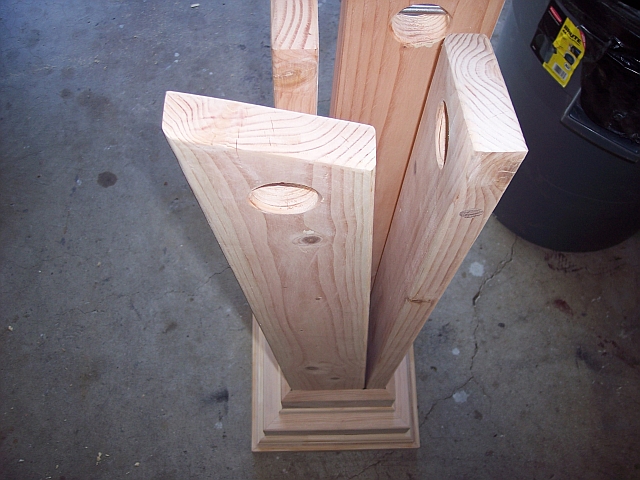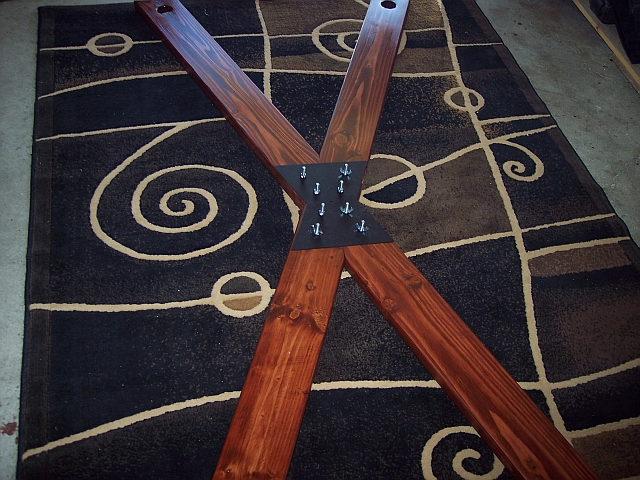 What customers are saying:
Real Testimonials from Real People
Note: Some have asked me not to use their real name, and I respect that. I have changed a few of the names for privacy purpose.
.
Tom,
The bench arrived today in perfect condition. It looks great and we can easily see the quality of the construction. It's everything we hoped it would be. Thank you very much; our dungeon is now complete.

Thank you –
M and R
.
.
Today I received my bondage bench from Tom and it looks amazing! Very solid, heavy-duty construction, yet easy to move. This bench is top quality all around. It looks great in pictures, and even better in person. One of the main advantages that Tom's bench has over others is the incline/decline positioning options. I looked at many other bondage benches and I didn't see this feature in any but Tom's. The packaging of the bench is outstanding – bomb proof, as they say. I ordered mine with ebony stain and black padding and I couldn't be happier with how it looks. If you're considering a bondage bench, I highly recommend this one for its excellent quality construction, rock-solid stability, beauty, and multiple positioning options.

Thank you –
Jeff
.
.
Hello Tom –
The bench arrived today and it is FANTASTIC!!!! I can't wait for SJ (Sir Jake) to return to see his surprise. It is superbly designed and crafted. Your attention to detail is amazing – even down to the care you put into packaging it for shipping. It arrived on time and discretely as promised. It is so nice to discover an artisan and businessman who provides an amazing product with great customer attention and all done with the highest integrity. Keep up the terrific work!
Thank you –
Bellini
.
.
11/18/2013

Hi Tom,

The packages arrived last Friday – and I just finally had time to put everything together tonight (took me longer to unpack it than to assemble).

It is beyond what we expected in fit, finish and quality – you sir, are a true craftsman!

First…the packaging was excellent and everything arrived without a scratch. Thank you for taking all the care you did with packaging, I'm sure that took a while but its amazing it traveled 2000 miles without so much a ding.

You weren't kidding when you said, "work of art"! Every part of it fits just perfect and the lines where all the pieces come together are tight-fitting.

My wife is tiny, but its feels sturdy enough to hold an elephant. I'm 6ft, 215lbs and…well…I couldn't resist putting my weight on it. Not so much a creak out of it!

The finish on it is absolutely beautiful and the leather straps you made really round this masterpiece out. All in all – a resounding "WOW"!

It's not very often that I get exactly what I was hoping for, and even rarer for me to want to write a glowing email.

Everything from the ease of contacting you, your speedy responses, professionalism and artisanship really blew our expectations away.

We can't thank you enough for building this masterpiece as the first in our collection. You've helped us add a bit more fun and spice into our wonderful life. We look forward to having you build us a few more pieces in the coming year!

Please feel free to use this email for your website if you'd like. I'd proudly recommend your art to anyone looking for high quality workmanship at a fair price.

Sincerely,

Terry
.
.
The restraint bench is a joy to own! Heirloom quality – solid, sturdy – and it's just beautiful to regard; clean lines and functional. Fun to play on – adjustable features coupled with various bondage options enable a lot of diverse, creative play experiences. And it's easy to store – I just slide mine into my closet under my hanging dresses.
Thanks,
Deana
.
.
"Just as pictured, excellent quality, nicely finished. This is a very sturdy piece of furniture that is also relatively easy to collapse and put away. Very happy I purchase this!"
Ian
.
.
Dear Tom,
"WOW! Can't complain at all, we love it thanks, or maybe I should say, I love it really, have had lots of fun on it, very nicely built and very comfortable too."
Thanks!
Christine
.
.
Hello Tom,
"Thank you so much for the spanking horse!
You truly are an expert of your craft. We wish you the very best and will definitely keep you in mind if we or anyone else we know we like some custom furniture or gear."
David
.
.
Hey Tom,
"I put it together, no problems. Very well-built and sturdy.
I saw you are selling your bench on Craigslist.
Let me know if you have anyone up in the bay area wanting to look at one in person before they buy it. I don't mind showing it, but only daytime weekdays."
Randy
.
.
Just absolutely the best. Production is perfect.
Scott
.
.
Hi Tom,
I love the new bench!
I actually bought this for a display piece in my shop, but am half tempted to take it home, or purchase another for myself :)).
It has become quite a conversation piece and sparked a lot of interest to new and regular customers.
Thanks,
Karen
.
This is a really great product! I can't believe how easy it was to set up and use!
I'll definitely recommend your site to anyone who asks.
-Jeff
.
.
Thank you Tom,
You did a great job with the construction of it that I was able to put it together without a problem.
Thank you for the great job. I will be sure to get plenty of use from it.
Sukie
.
.
Looks good overall.
Very satisfied.
I had tried my hand at making one, but yours is much better than what I was doing.
Anonymous
.
.
Got the bench and love it.
Truly a work of art!
-John
.
.
Just wanted to take a minute and let you know I received the bench today, and I couldn't be happier.
It is as beautiful as I expected, you definitely do good work.
-Mike
.
.
The horse arrived yesterday afternoon in good condition, and I had it unpacked and set up in short order.
I'm very pleased with it, and have configured it in a couple different ways just to check it out.
Here I have the top pad With the high-end at the rear, which I like. I'm impressed with the ease of making changes.
This is a beautifully manufactured and finished device.
Thanks for your prompt service.
-Frank
.
.
I had a chance to use your spanking bench the other day. I couldn't be happier with it.
When it arrived, I really thought it was too small.
But when somebody is on it, it puts him and his butt at the perfect height.
In fact, everything about the positioning of the person strapped to it is perfect.
It's perfectly stable, too.
I'm very rarely 100% satisfied with any product. But I am with this bench. It will be a regular staple of my videos.
-Kathy
.
.
I received the bench yesterday, in good condition, and had no problem with setup.
The finish is beautiful, and matches my other gear very well.
-Brent
.
Order And Reserve Your Custom Fetish Furniture Now!
Check Out What's Available Now>>
Contact me for Custom Orders and Builds Phone: (805)-878-1847 Email: tom@fetishfurniture.org Skype: tom.douvia Find us on Google+
Tom Douvia